Ist die Summary zu "How India Became America" so ok?
Hallo ihr lieben Leute,
ich wollte euch fragen, ob diese Summary zu dem Zeitungsartikel "How India became America" so ok ist. (http://www.nytimes.com/2012/03/11/opinion/sunday/how-india-became-america.html)
Ich wollte fragen ob ich was ergänzen, oder weglassen soll. Ich habe bemerkt, dass sich der Satzbau immer wieder wiederholt. Wie kann man das gut möglichst ändern? Außerdem wollt ich wissen, ob der Text von der Struktur her so ok ist (er ist zurzeit so wie der Zeitungsartikel aufgebaut, oder ob man ihn aspektgeleitet strukturieren solle. Dann wollte ich noch fragen, ob man "Then the author goes on naming..." (auf den Satzbau bezogen) so schreiben darf, weil es sich meiner Meinung nach komisch anhört. Ist der Satzbau "Furthermore, the author mentions..." so richtig? Oder eher "Futhermore does the author mention..." ? (auch bei Moreover)
Vielen Dank schon mal im Voraus! Viele Grüße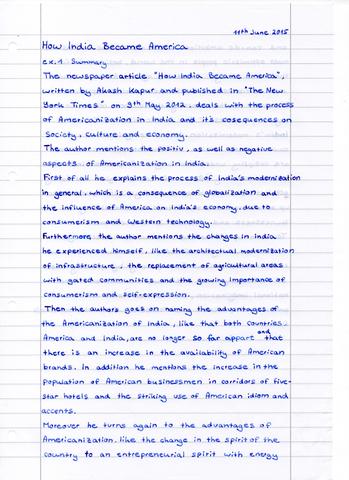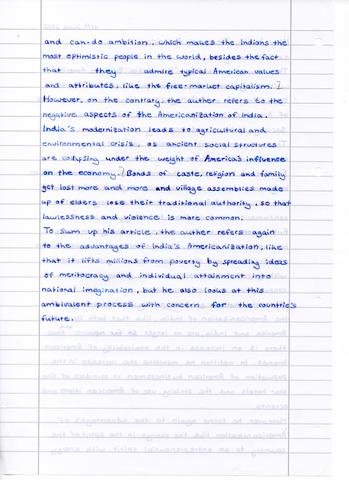 3 Antworten
Antwort
Community-Experte
Englisch, Lernen
Damit man deine Summary bewerten und ggf. korrigieren kann, wirst du sie hier wohl abtippen müssen. Auf den Bildern kann man jedenfalls nichts lesen und selbst wenn, wäre eine Korrektur zu umständlichn.
Auf den ersten Blick und ohne etwas entziffern zu können, erscheint mir deine Summary zu lang.
Für Summaries gilt:
Sie werden in der Regel im Present geschrieben. Handlungen aus der Vergangenheit können aber durchaus auch im Past Simple und Present Perfect stehen.


- The summary is usually written in the present tense.
- But past events may be reported in the past, future events may be reported in the future.
- Statements or questions which were made in the past may be reported in the past tense or the past perfect.
- Statements and questions which were made in the past but concern the future may be reported in the conditional.

(Quelle: kfmaas.de/summary0.html)

Für die Anwendung der anderen Zeiten im Summary gelten dieselben Regeln und Signalwörter wie in anderen Texten.

Die Zusammenfassung eines Sachtextes, der sich mit Geschichte befasst, steht im Simple Past, denn es handelt sich um in der Vergangenheit abgeschlossene Handlungen.

In eine Summary gehören nicht:

- Progressive / Continuous Tense
- Wörtliche Rede
- Zitate aus dem Originaltext
- Eigene Meinung, Gedanken und Kommentare
- Stellungnahme
- Schlusssatz
- Erzählerische Elemente, z.B. suddenly, unfortunately, at long last …

Zur Länge gibt es keine Vorgaben, man sagt über den Daumen gepeilt 1/5 des Originaltextes.

Tipps und Wendungen zu englischen Summaries findest du unter folgendem Link:ego4u.de/de/cram-up/writing/summary

Beispiele und Übungen findest du, wenn du bei Google - sample summaries oder exercises English summary eingibst.
AstridDerPu
Antwort
Community-Experte
Englisch, Schule
Leider ist der Text, so klein wie er herüberkommt, extrem schwer zu lesaen.
Aufgefallen sind mir aber  Fehler, die wie folgt korrigiert werden müssten: its conseqences; positive.
Meine persönlcihe Meinung zu Sätzen wie "Then the author goes on y saying..." usw. und "then the author mentions..." ist, dass sie NICHT in "summaries" gehören, weil solche Sätze eher zur Beschreibung udn Analyse des AUFBAUS eines Textes sind. Durch solche Formulierungen wird eine summary unnötig lang(was dem Sinn einer summary widerpsricht). Doch kann es sein, dass Dein Lehrer, Deine Schuel, Dein Budneland die summary von Sachtexten so haben will - weiß ich natürlich nicht.
Zudem meine ich, dass die summary eines Sachtexts nicht unbedingt der Reihenfolge der Ausgangstexts folgen sollte - im Gegenteil: Wichtiger udn kalrer, wäre es, den Inhalt systematisch und logisch-konsequent  darzustellen.

"Furthermore does the author mention" ist auf jeden Fall völlig falsch, da hier weder Verneinung, noch Einschränkung,  noch Frage vorliegt.
Insgesamt scheint mir Deine summary aber in Ordnung zu sein, "klasse" aber scheint mir übertrieben.