Material based writing, passt das?
Hallo :)
Wir müssen in Englisch ein Material-based-writing schreiben.
Ich tu mich da richtig schwer und hatte letztes Mal eine Themaverfehlung. Deshalb wollte ich fragen, ob das eurer Meinung nach gut ist oder eher nicht?
Die Aufgabenstellung ist auf dem Bild unten.
Einleitung:
During the last years the consuming of sugary drinks has become a big problem. It's a well-known fact that especially children love sugary drinks and consume it too much. Obesity and diabetes has also increased extremely because of this drinks over the last decades. Thus the question arises, should sugary drinks have warning labels and higher taxes as well as cigarettes?
Argument:
First of all sugary drinks can contribute to weight gain and other health problems by consuming too much of it. Because of the added sugar are this kind of drinks high in calories, which has a addictive factor and should be prevent, especially by children. Of course we need to drink fluid every day to stop dehydration, but there are a lot of other option like to drink water with fresh fruit in it or unsweetened tea. Warning labels on sugary drinks would influence the buying decision of the parents.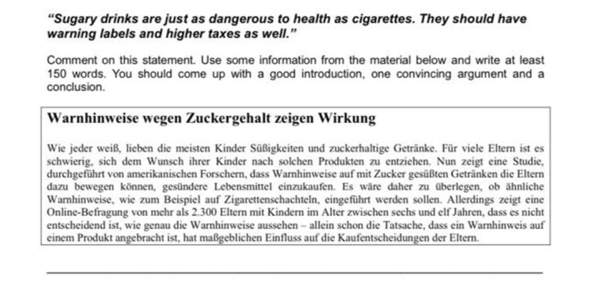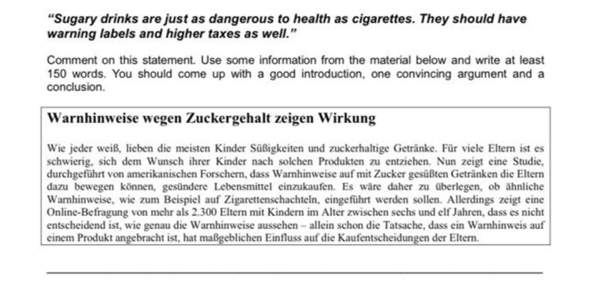 Also grundsätzlich finde ich den Text schon sehr gelungen, allerdings würde ich die Zusammenfassung noch weiter herausarbeiten. Aber ansonsten denke ich, dass du das Thema sehr gut getroffen hast :)