Englisch Bildbeschreibung Benotung?
*Das Bild war in der Arbeit Grau weiß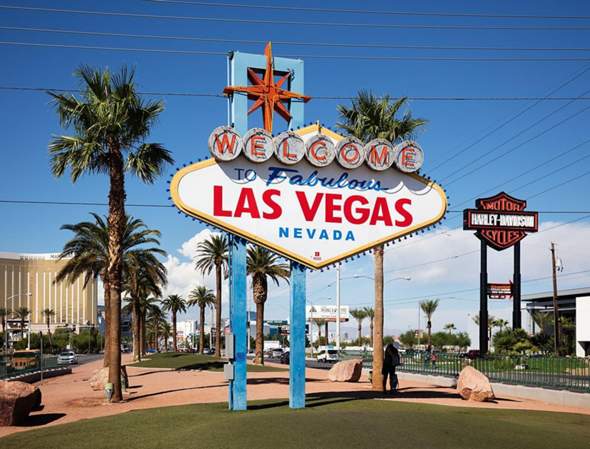 On the left bottom you can see a apartment, and cars on the street. On the right bottom you can see a motor cycle Markt. On the middle of the picture you can see a men wo chill there, and Little bit higher you can see a big shield of Las Vegas, In this area are very many Palms and stone. , the location is in USA, Las Vegas Nevada.
Das genau habe ich aufm der Arbeit geschrieben.. Wir würdet ihr das benoten?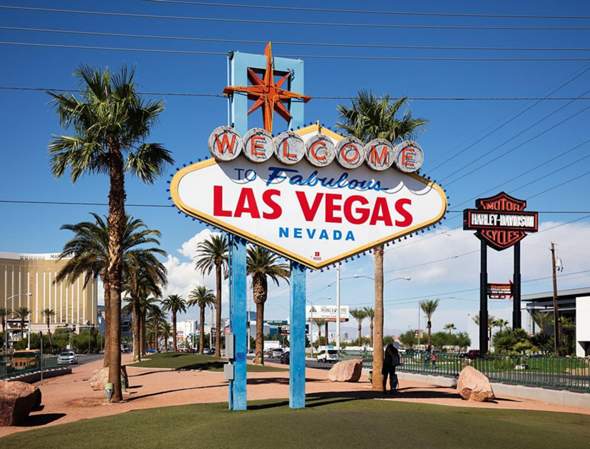 Das Ergebnis basiert auf 7 Abstimmungen

Abgesehen von einigen Fehlern (es ist sogar ziemlich beeindruckend wie viele davon in diesem kurzen Text sind) ist die Beschreibung ziemlich oberflächlich, daher ist sie auch ziemlich kurz, ich gehe davon aus, dass dir das selbst schon aufgefallen ist, aber das hat dich scheinbar nicht zur Besserung angespornt.
Ich formuliere es jetzt mal so: Wäre das was du geschrieben hast der Erwartungshorizont, dann würde es dafür nicht 15 Punkte geben. Was du geschrieben hast, ist nicht nur wenig, sondern auch noch von Fehlern geplagt, undzwar ziemlich vielen. Ich weiß weder, ob du alle davon auch so in der Arbeit geschrieben hast, noch in welche Klasse du gehst, aber für alles, was länger als ein Jahr Englisch hatte, ist das recht bis sehr schwach.

Viele Fehler, sehr kurz und der verwendete Wortschatz ist auch sehr arm.
Ich würde eher sowas erwarten:
Das Bild wurde auf dem palmenbestandenen Mittelstreifen eines Highways, offenbar am Orteingang von Las Vegas aufgenommen.
Dominierendes Objekt des Fotos ist ein grosses Schild auf dem Mittelstreifen, auf dem die Besucher der Stadt begrüsst werden. Das Schild ist so gross, dass sich dort ein Mann im Schatten aufhalten kann etc. etc.
Von Experte
Community-Experte
Englisch
On the left button (Wort) you can see a (RS) apartment (Wort), and cars on the Street (RS). On the right button (Wort) you can see a motor cycle Markt (Wort; RS). On (Präposition) the middle of the picture you can see a men (Grammatik) wo (RS) chill (Grammatik) there, and Little (RS) bit higher you can see a big shield (Wort) of Las Vegas, (Satzzeichen) In this Area (RS) (Hier fehlt ein Wort.) are very many Palms (RS). the (RS) Location (RS) is in (Hier fehlt der Artikel.) USA, Las Vegas Nevada.
Mehr als 5 / 15 - wenn überhaupt - hast du dafür nicht zu erwarten. Neben einer geringeren Anzahl von Fehlern würden deiner Bildbeschreibung ein paar zusätzliche Kommas und Abwechslung in der Formulierung (Satzbau) gut zu Gesicht stehen.
Das Fettgedruckte muss korrigiert werden. Ich hoffe, ich habe nichts übersehen.
Für das Vokabular und die Rechtschreibung empfehle ich ein gutes (online) Wörterbuch, z.B. pons.com,
für die Grammatik ego4u.de und englisch-hilfen.de - und Finger weg vom Google Übelsetzer und seinen tr.tteligen Kollegen!
:-) AstridDerPu

Community-Experte
Englisch, Schule
Wenn 15 Punkte die Höchstpunktzahl war, dann bist du mit 5 Punkten noch sehr gut bedient.
Viel zu viele Wort- und Grammatikfehler!

Button? Knopf? Was genau möchtest du damit sagen? Müsste es nicht "on the left hand side" heißen?
Außerdem:
an apartment
street klein
motorcycle zusammen
market
In the middle
a man
who
chills
a little
little klein
Punkt nach Las Vegas
area klein
a lot of palms
Leider kein Satz ohne einen Fehler - ich möchte zwar keine Punkte geben, aber ich bezweifle dass es viele werden. Trotzdem viel Erfolg