Hab ich diesen Brief auf englisch richtig geschrieben?
Dear Mom and Dear Dad,
I went abseil with my class today. You know, that I am afraid of something like that, since I also have high altitude. Actually, I wanted to be sick for this day. But it didn't work, because the doctor had closed. Now I had to with. I had a queasy feeling.
When my class and I arrive at the mountain,our teacher introduced the team leader. He looked friendly. But I was scared and me got bad. Jake the team leader showed us how to tighten the (strap) harness to your body. The team leader checked our belts. Then he showed us how to fix the rope to the strap properly. He also checks this.
Then it was time. We all had to climb down one after the other. I stayed as only above. Jake said to me,that I now come down. I said to him that I do not want. Then have me myself but dared.
Suddenly it happened. I slipped and became bad. I got the panic. Jake reassured me so I could be saved. I'm glad to be back on the ground.
Your Tim
Danke schon mal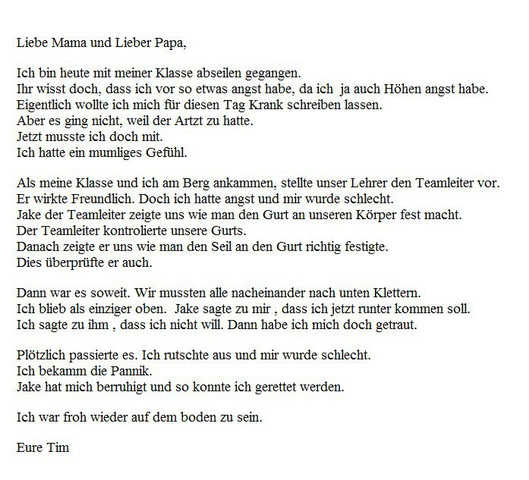 Also man versteht auf jeden Fall was du sagen willst , allerdings sind ein paar grammatikalische Fehler drin.
Im 2. Satz würde ich gar kein Komma verwenden, die sie du gesetzt hast sind überflüssig, und das also würde ich auch streichen. Das selbe mit dem Satz mit dem doctor, kein Komma vor because. Und der Satz danach macht kein Prädikat, nur ein hilfsverb...
Im nächsten Absatz heißt es arrived. Und rein stilistisch würde ich dass das der teamleader Jahr heißt direkt schreiben wenn du anfängst vom Team leader zu schreiben und dann versuchen Wiederholungen zu vermeidenden. Und am Ende des Absatzes wieder checked anstatt checked, du musst in einer zeit bleiben und darfst nicht springen.
Im Absatz danach heißt es we climed down one after another glaube ich. Und dann i was the only one that stayed above. Jake told me that i was the next one/that i had to climb down next. Und den Satz danach versteh ich nicht 😬 Der möchte Abschnitt ist gut.
Das sieht jetzt viel aus, aber im Grunde ist der Text nicht schlecht
In welcher Klasse bist du denn? Ich denke da gibt es schon einige Dinge die du anders schreiben solltest.
Vergiss nicht, dass "ed" am Ende eines Verbes zu setzen.
Du hast manchmal mit, manchmal ohne geschrieben.