Spannung bei Grafikkarte zu niedrig?
Hey Leute :)
Habe wohl ein kleines Problem mit meiner Grafikkarte (ASUS R9 290). Seit ich diese eingebaut habe stürzt mein PC ohne Fehlermeldung oder Bluescreen ab und startet sich danach automatisch neu. Whocrashed hat folgendes ausgegeben:
On Tue 16.06.2015 04:15:12 GMT your computer crashed crash dump file: C:\Windows\Minidump\061615-72634-01.dmp This was probably caused by the following module: ntoskrnl.exe (nt+0x4B2EFC) Bugcheck code: 0x124 (0x0, 0xFFFFFA800811C038, 0x0, 0x0) Error: WHEA_UNCORRECTABLE_ERROR file path: C:\Windows\system32\ntoskrnl.exe product: Microsoft® Windows® Operating System company: Microsoft Corporation description: NT Kernel & System Bug check description: This bug check indicates that a fatal hardware error has occurred. This bug check uses the error data that is provided by the Windows Hardware Error Architecture (WHEA). This is likely to be caused by a hardware problem problem. This problem might be caused by a thermal issue. The crash took place in the Windows kernel. Possibly this problem is caused by another driver that cannot be identified at this time.
Scheint also ein Hardware Problem zu sein. CPUID Hardware Monitor hat dann den Anhang angezeigt. Was für die Grafikkarte wohl am wichtigesten ist, ist was bei +12V/-12V steht: 8,064V/-3,120V. Sind in der Differenz etwa 11,1V. Das scheint mir etwas wenig zu sein. Kann daher der Fehler kommen? Lässt sich das irgendwie beheben oder muss ich wirklich neues Netzteil kaufen?
Ich hoffe auf eine schnelle Antwort :)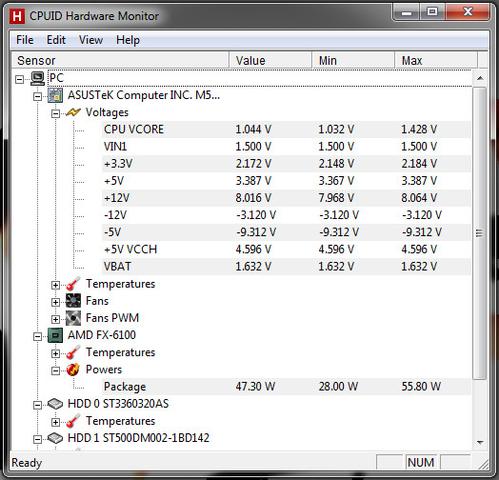 3 Antworten

Hey,
Das sind die Spannungen vom Mainboard die haben mit der GPU wenig zu tun.Du kannst bei der GPU mit Programmen nur die Core Spannung auslesen,für den Rest werden Spannungsmess-Punkte fällig oder eine entsprechende OC Karte...
Ich tippe mal auf das Netzteil Chinaböller der einfach mit den Lastwechseln nicht zurecht kommt...Mit einem Straight Power E10 500W bist du gut beraten
Was für ein Mainboard ist den Verbaut?
wie siehts in diesem fall bei dir aus?
"This problem might be caused by a thermal issue"
und was für ein netzteil hast du denn, mit welcher sonstigen hardware? die karte ist auf jeden fall hungrig.
Hallo Manu. Ich hatte genau das selbe Problem, bin verzweifelt. Hab 4 Tage alles mögliche gemacht damit ich endlich wieda normal arbeiten kann. Internetforen durchstreift und trotzdem nicht wirklich klüger geworden. Bis auf heute. Hab Im Overclocking netz gesucht und bin fündig geworden.
Also ich hab mir MSI Afterburner runtergeladen, in den Einstellung Voltage Kontroll aktiviert, und etwas dran rum getüftelt (ACHTUNG!!!) nicht zu viel ich kann dir meine Daten durchgeben. Netzteil ist sicher nicht schuld und auch das Mainboard nicht, ich hab extra ein neues von Asus gekauft.
Lg Lukas