Minecraft/Java LoadLibrary failed with error 126
Ich habe ein Problem, und zwar, wenn ich Java 64 bit installiert habe, funktioniert Minecraft nicht, da kommt immer die Meldung:
**LoadLibrary failed with error 126: Das angegebene Modul wurde nicht gefunden.****
Wenn ich aber die gleiche Version von Java benutze, nur 32 bit, dann geht Minecraft. Weiß jemand warum das so ist und wie ich es wieder hinbekomme, das Minecraft auf Java 64 bit läuft?
(Ich benutze die neuste Version von Java, bei denn älteren hat es aber auch schon nicht funktioniert.)
...komplette Frage anzeigen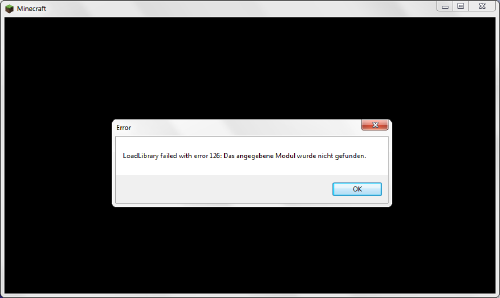 2 Antworten
Das klingt, als ob bei dir die Shared Libraries für Minecraft fehlen.
Welches Betriebssystem hast du?

@Silberschwert
Üblicherweise, indem du Minecraft neu runterlädst.
Eigentlich müsste force update reichen, aber emvtl musst du den saves_Ordner rausnehmen, den Rest Löschen, neu runterladen lassen und dann saves wieder einfügen.

@PerfectMuffin
Ich habe Minecraft schon oft gelöscht und dann wieder neu Installiert, aber es hat nichts gebracht!

@PerfectMuffin
Ah, ich habe die Frage falsch gelesen.
Die Frage ist eher, ob du auch 64bit Windows hast!

@PerfectMuffin
Ich habe Adminrechte und eine 64bit Version von Windows Arbeitsspeicher: 8 GB Prozessor: Intel Core i5-2450M
Hast du überhaupt eine 64 Bit Version von Java installiert?