Minecraft Crash Report - keine Lösung :(
Ich benutze seit mein Laptop kaputt ist ein' neuen COmputer, so als Übergang (win7) Aber jedesmal wenn ich versuche auf dem PC Minecraft zu öffnen erscheint ein Crash report. Ich habe Minecraft auf der ofiziellen Seite gekauft & gedownloadet, daran liegt es also nicht.
Jedesmal erscheint dann dieser Crash report (1. Abschnitt) :
---- Minecraft Crash Report ---- // My bad.
Time: 05.01.14 13:42 Description: Initializing game
org.lwjgl.LWJGLException: Pixel format not accelerated at org.lwjgl.opengl.WindowsPeerInfo.nChoosePixelFormat(Native Method) at org.lwjgl.opengl.WindowsPeerInfo.choosePixelFormat(WindowsPeerInfo.java:52) at org.lwjgl.opengl.WindowsDisplay.createWindow(WindowsDisplay.java:244) at org.lwjgl.opengl.Display.createWindow(Display.java:306) at org.lwjgl.opengl.Display.create(Display.java:848) at org.lwjgl.opengl.Display.create(Display.java:757) at org.lwjgl.opengl.Display.create(Display.java:739) at atv.O(SourceFile:297) at atv.d(SourceFile:599) at net.minecraft.client.main.Main.main(SourceFile:101)
A detailed walkthrough of the error, its code path and all known details is as follows: ...
Es erscheint auch eine Meldung "Fix the Problem" doch wenn ich das versuche, sind die ganzen Links bereits abgelaufen :( Hat irgendjemand das selbe Problem oder weiß eine Lösung?
...komplette Frage anzeigen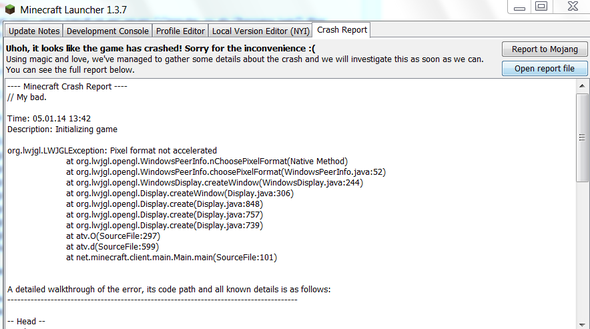 1 Antwort
Drück Windowstaste und R dann schreib da rein %appdata%. Lösche den .minecraft Ordner. Dann versuche Minecraft zu starten. Wenn es nicht geht Mach nochmal Windowstaste und R und schreib da rein %temp% Lösch da alle Dateien! Es passiert garantiert nichts! Wenn es wieder nicht geht dann hast du Minecraft zu wenig Ram oder zu viel Ram zugewiesen. Kuck dir ein Video an "Minecraft mehr Ram zuweisen" Das kann dir helfen! Wenn du Cracked Launcher hast musst du auf Memory (Launcher) Gehen und schreib da den Viertel deines Arbeitsspeichers rein.
2 GB = 512 MB 3 GB = 798 MB 4 GB = 1024 MB 6 GB = 1536 MB 8 GB = 2048 MB und so weiter.. Wenn es immer noch nicht geht dann Update Java nochmal. Wenns wieder nicht geht dann installiere dir dieses Programm = http://www.chip.de/downloads/Advanced-SystemCare-Free_36535521.html in der Werkzeugkiste findest du auch einen Game Booster 3 der beschleunigt Minecraft um 10-30 FPS. Zurück zum Programm. Scanne deinen Kompletten PC ab. Unten links stehtDieserda s Ankreuzen oder was anderes. Dann wird alles ausgewählt. Dieser Forgang dauert einige Stunden dann Finger weg vom PC! (Schließe ihn am Ladekabel an damit es schneller geht!). Wenn immer noch nicht geht aktualisiere deinen Treiber. Ich hoffe ich konnte dir helfen.