James Thurber The Little Girl and the Wolf (Englisch Hausaufgaben)
Hallo, wir hatten als Hausaufgabe in Englisch auf di Fable von James Thurber: The Little Girl and the Wolf lesen und bearbeiten (dies habe ich als Bild eingefügt). Könntet ihr freundlicher Weise mal über meine Antworten schauen und sie ggf. verbessern? Das wäre echt super! Hier meine Antworten:
1. The fable "The Little Girl and the Wolf" has much similarity with the original. One similarity is the Wolf he has in the fable the same part as in the original fable. Another similarity are the girl. In this case the Girl are the same little girl as in the original fable. One big different is the End. In this fable the little shot the Wolf with a automatic down. In the original the little girl get her grandmother out of the Wolf.
2. I think this fable is very amusing. Because I think the End of story is very funny. Then the little Girl shot the bad Wolf down with a automatic it is brutal but very funny.
3. I don't understand this.
4 Yes I think it, because he like power women oder girls.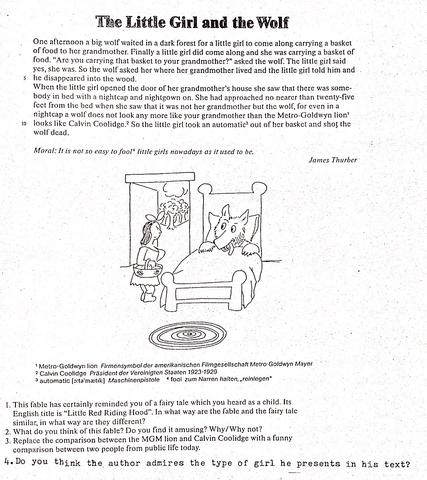 1. The fable "The Little Girl and the Wolf" is similar to "Little Red Riding Hood" in its basic elements: a girl is on her way to her grandmother's house, meets along the way wolf, who subsequently rushes on ahead to grandmother's house to set a trap for her. These parts of the story are however, since the reader is already well acquainted with them, hurriedly explained, in order to get to the main big difference: the twist ending. The girl does not fall for the trap, and subsequently needs no rescuing. This version appeals to logic: no one would be fooled by a beast, who tries to give himself as a grandmother, not even a little girl.

2. The twist ending of this fable very amusing. That the little girl shoots the "big bad wolf" down with an automatic it is a little over the top, but nevertheless provides cause to smile, for it displays, how typical children in the playground outside the classroom would joke about the original version of such a story.

3.

In der Geschichte vergleicht der Autor die schlechte Verkleidung des Wolfs als die Oma so schlecht mit einer ihm komischen Vorstellung, wobei der MGM-Löwe sich als diesen Calvin Coolridge Typ verkleidet. Gleichermaßen sollst du ein witziges Vergleich machen.

4. It is quite clear that this is the case. The author explicitly writes, that no body would be fooled by such a badly executed trap on the wolf's behalf. He thus tries to push either to his children audience, not to fall for such obvious things, or more subtly to his adult audience, not to portray children in fables as so incapable, that they are incapable of recognising such obvious danger.