Ist dieses Gedicht so richtig geordnet?
Stimmen reihenfolge und Absätze?
Underneath the gloomiest walls,
looking into troubled waters,
your eyes shine bright,
beautiful, like stardust in my starriest night.
Time flies by so fast, when we're together,
eternally I would stay,
I wish it could be like this forever,
till our final days.
A world without you seems ordinary,
grey, senseless, with burdens to carry.
Only your fullest perception,
could compensate my deep affection.
Danke für jede Antwort!
---
12.02.2020, 21:45
---
Ok, scheint als hätte gutefrage das gedicht falsch geordnet, hier also ein screenshot: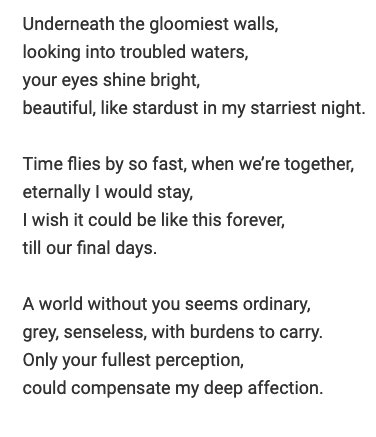 1 Antwort
Das ist kein Gedicht sondern ein Text, es gibt weder ein Reimschema noch einen bestimmten Rhythmus.