hallo, und zwar ich muss dieses bild interpretieren und analysieren meine frage ist ob ich es korrekt geschrieben habe und AIDA Krit. in meinem Text vorhanden?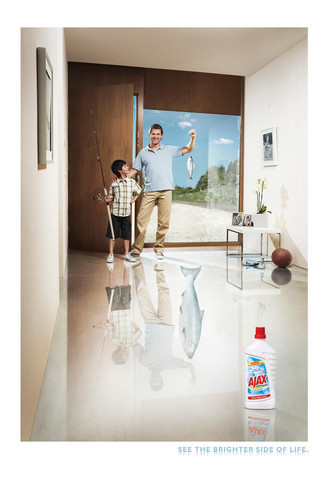 In this advertisement the cleaning agent Ajax is presented. Ajax is one of the largest detergent manufacturers in the world. The picture shows a child and a man. This picture was taken in seashore in a room. Further, the picture has been photographed very professionally. The child in the advertising holds a fishing rod with a smile. The child stands next to a man holding a fish. Most likely, that man is the child´s father. He has a laughing face as well. What has alerted me is that the two persons in the picture are reflected on the floor. This shows that the brand Ajax makes the floor very clean. I was especially interested in the pictures on the wall and the little table. However, a few blue shoes are next to the basketball. There is also a vase of flowers that stands on the table. In my opinion, this advertisement is very good because the floor looks really clean AJAX. The cleaning agent Ajax is highlighted with red font, so you can see the company brand right away. I would like to recommend this ad because this ad can easily affect people. In my opinion something is missing in this ad for example a women, because this advertisment is more for women. Thes products are usually for women. Even at my home only my mother buys cleaning supplies, because my father doesn´t know. I think that this advertising will be successful because this advertising can influence the people. Otherwise this advertisement is good.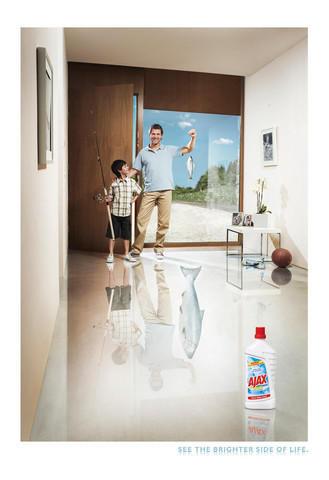 3 Antworten
This picture advertises the cleaning agent "Ajax".......In the picture one can see a small child and a man, who presumably is the father. This picture, which was taken very professionally, shows a room, where from the French windows (die Verandatür) one can see the beach. In the advertisement the child is smiling and holding a fishing rod and the man who is standing next to the boy is holding a fish and is also smiling. What drew my attention in this picture was that both the man and the boy were reflected in the mirror-like floor of this room. This shows the extent to which "Ajax" is able to clean floors. Of special interest to me were the were the pictures on the wall and the little table............this ad can easily influence people..............something is missing from this ad and to be more precise - women! After all, this advert is aimed at women......
Ich weiß nicht, ob ich das richtig mache, da ich einige Sätze ein bißchen verändert habe. Was meinst du?

Ein paar Anmerkungen:
Der Reflektierte Fisch ist deutlich größer als das Original. Da hat ich ggf wer was mit gedacht.
Der Reiniger ist nicht mit roter Schrift hervorgehoben da das wohl das normale aussehen des Reinigers ist. Er steht aber prominent im Vordergrund und nirgend wo sonnst sticht rot ins Auge.
Warun sollte eine Frau in der werbung andere Frauen ansprechen? Warum sollten Männer nicht angesprochen werden dürfen. Auch Männer putzen. Und könnte hier nicht die assoziation sein das die wohnung auch sauber bleibt selbst wenn Frau nicht jeden moment mit dem wischer hinter den Herren hinterher rennt?
Was genau sagen uns die Ausflugskleidung und das Sportzubehör? Liegt da ggf die Assoziation nahe das Ajax selbst bei einem aktiven Vater Sohn duo den Boden sauber hält?
Antwort
Community-Experte
Englisch, Schule
Wenn schon, dann cleansing agent oder einfach: detergent.
Ajax ist kein Hersteller (manufacturer) , sondern nur eine Marke des COLGATE-Palmolive Konzerns.
Sprachliche Korrekturen:
Eine Werbeanzeige ist nicht "an advertising", sondern an advert / an advertisement, oder kurz "an ad".
Also: Nicht * "This advertising will be successful", sondern: This advert /advertisement/ ad will be...
for example a woman ...
the two people (nicht "persons")