Hallo könntet ihr mir das Rezept vielleicht übersetzen?
300g cream cheese (10 oz.)
45g unsalted butter (a smidge over 3 tbsp.)
57g egg yolk (this equals to 3 yolks)
20g sugar (just over 1 1/2 tbsp.)
11g cornstarch (1 1/4 tbsp.)
150g milk (1 1/8 cups)
95g egg white (3 egg whites)
55g sugar (1/4 cup)
Use an 18 cm (7 in) cake pan with a fixed bottom Oven temp is 355F
Instructions
Cut a strip of parchment that is 3 cm higher than the height of the cake pan. Fold 1.5 cm along the long edge and cut a notch to the fold line every 2 cm to allow the strip to line the side of the cake pan. Slits should point into the center of the cake pan. You want the strip to be at least 1 cm taller than the cake pan. (Basically, the notches are just so you can build a perfectly round collar around the base of the pan.) Cut a parchment paper round to line the bottom of the cake pan.
Preheat the oven to 355°F. Put the egg whites into the freezer so it just begins to freeze around the edges. Sift the cornstarch.
Wrap the cream cheese in clear wrap and microwave until it becomes soft to the touch. You do not want to heat it up. (I did this in about 15 second intervals.)
In a large bowl, melt the butter over a double boiler. Add the cream cheese and whisk well to combine.
In another bowl, combine the egg yolks and 20g of sugar. Mix in the cornstarch.
Heat the milk so it comes to a boil. Add it to the egg yolks and whisk until it thickens in a double boiler over boiling water. Add this mixture to the cream cheese and combine well.
Add a small amount of the 55g of sugar to the egg whites and mix on medium low speed for about 2 minutes. Gradually add the remaining sugar to the egg whites and beat on medium until a soft meringue forms.
Add ¼ of the meringue to the cream cheese mixture and combine. Add the remaining meringue to the cream cheese mixture and fold to combine. Fill the cake pan and smooth the top.
Put the cake pan in a roasting pan and add boiling water so it comes up 1-1.5 cm up the cake pan. Bake for 15 minutes and then lower the temperature to 160°C and continue to bake for 25 minutes until the top turns slightly golden. Turn off the oven and leave the cake pan for another 40 minutes to an hour.
Note: The cake will continue to bake with the heat off so do not over bake. Depending on the oven, the cake may not turn golden but should avoid cooking much longer than the suggested time.
Take the cake out of the roasting dish and place on a wire rack to cool completely. Refrigerate and chill completely before taking it out of the pan. It is best served the second day
9 Antworten
Vom Fragesteller als hilfreich ausgezeichnet

Antwort
15.05.2016, 23:23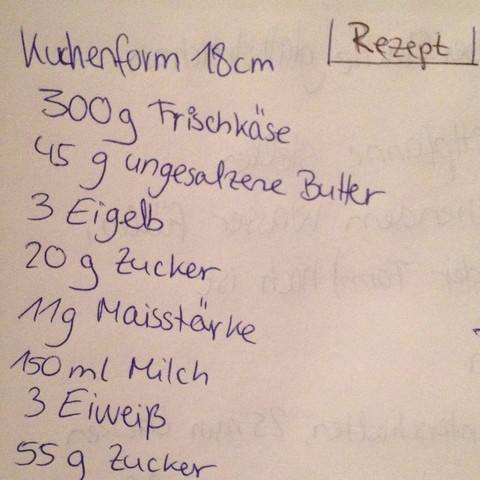 Antwort
Community-Experte
Ernährung
19.05.2016, 16:48
Bitteschön...das sagt der Google-Übersetzer:
300g Frischkäse (10 oz.)
45g ungesalzene Butter (a smidge über 3 EL.)
57g Eigelb (das entspricht bis 3 Eigelb)
20g Zucker (etwas mehr als 1 1/2 EL.)
11g Maisstärke (1 1/4 EL.)
150g Milch (1 1/8 Tassen)
95g Eiweiß (3 Eiweiß)
55g Zucker (1/4 Tasse)
Verwenden Sie ein 18 cm (7 Zoll) Kuchenform mit einem festen Boden Ofentemperatur 355F ist
Anleitung
Schneiden Sie ein Pergamentstreifen, die 3 cm höher als die Höhe der Kuchenform ist. Falten 1,5 cm an der langen Kante und schneiden alle 2 cm der Streifen zu ermöglichen, auf die Seite der Kuchenform Linie eine Kerbe auf der Faltlinie. Slits sollte in der Mitte der Kuchenform zeigen. Sie wollen, dass der Streifen mindestens 1 cm größer als die Kuchenform zu sein. (Im Grunde genommen sind die Kerben nur so können Sie einen perfekt runden Kragen um den Boden der Pfanne zu bauen.) Schneiden Sie ein Pergamentpapier runden den Boden der Kuchenform zu zeichnen.
Heizen Sie den Backofen auf 355 ° F. Setzen Sie das Eiweiß in den Gefrierschrank, so dass es nur um die Ränder zu frieren beginnt. Sieben Sie das cornstarch.
Wickeln Sie den Frischkäse in einer klaren Packung und Mikrowelle, bis es zur Berührung weich wird. Sie wollen nicht, um es zu erwärmen. (Ich tat dies in etwa 15 Sekunden-Intervallen.)
In einer großen Schüssel die Butter schmelzen über einen Doppel-Kessel. Fügen Sie den Frischkäse und wischen gut zu kombinieren.
In einer anderen Schüssel die Eigelb und 20 g Zucker. Mischen Sie in der cornstarch.
Die Milch erhitzen, so dass es zum Kochen kommt. Fügen Sie es zu den Eigelb und Schneebesen, bis sie über kochendem Wasser in einem Doppel-Kessel eindickt. Fügen Sie diese Mischung der Frischkäse und kombinieren gut.
Fügen Sie eine kleine Menge der 55 g Zucker zu den Eiweiß und mischen auf mittlerer niedriger Geschwindigkeit für ca. 2 Minuten. Nach und nach auf das Eiweiß und schlagen auf mittlere bis eine weiche Baiser bildet den restlichen Zucker.
Fügen Sie ¼ der Baiser auf die Käsemischung Sahne und kombinieren. Fügen Sie die restlichen Baiser zum Käsemischung Sahne und falten zu kombinieren. Füllen Sie die Kuchenform und die Oberseite glatt.
Legen Sie die Kuchenform in einem Bräter und mit kochendem Wasser, damit es die Kuchenform auf 1-1,5 cm kommt. Backen Sie für 15 Minuten und dann die Temperatur auf 160 ° C senken und weiterhin für 25 Minuten backen, bis die Spitze leicht golden dreht. Schalten Sie den Backofen aus und lassen Sie die Kuchenform für weitere 40 Minuten bis eine Stunde.
Hinweis: Der Kuchen wird weiterhin mit der Hitze zu backen, damit nicht über backen ab. Je nach Ofen kann der Kuchen nicht golden drehen, aber sollten es vermeiden, viel länger als die vorgeschlagenen Zeit zu kochen.
Nehmen Sie den Kuchen aus dem Bräter nehmen und auf einem Draht
Gutes Gelingen.
LG Pummelweib :-)
Antwort
Community-Experte
Englisch
14.05.2016, 17:29
Hallo,
beim Vokabular hilft ein gutes (online) Wörterbuch, z.B. pons.com
die Maßeinheiten findest du hier:
exploratorium.edu/cooking/convert/measurements.html
:-) AstridDerPu