Brauche Hilfe.! Route auf Englisch beschreiben.
Muss einen Englischhefter machen über meine Sprachreise und soll unsere Route beschreiben.
Hier die Aufgabenstellung: **Today we reach England by ferry. Descibe our route (big towns and the countries from zwickau to calais). ** Könnt ihr mir bitte helfen. Weiß nicht weiter und muss den übermorgen abgeben. Bin Krank seit einer Woche, aber meine Englischlehrerin wird das sicher nicht verstehen... vielen dank im voraus ;D Hier die Route von Google, weiß die nicht mehr sind über nacht gefahren und hab geschlafen. Nehm jetzt einfach die -->
...komplette Frage anzeigen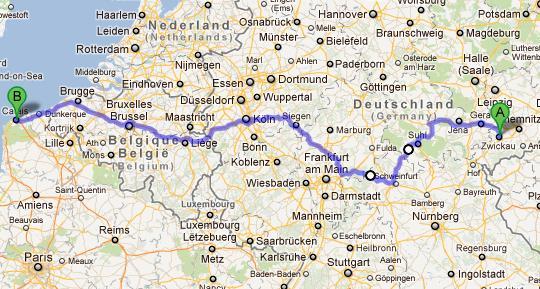 1 Antwort
Das ist zwar nicht lang aber ich glaube das was verlangt wird. Also:
We left Zwickau in Germany and we were going by train to Frankfurt am Main which is also in Germany. Then we left Frankfurt and head to Cologne which is located on both sides of the Rhine River in Germany. From there we went also by train over the border of Belgium to Brussel which is the capital of Belgium and the de facto capital of the European Union. Then we left Brussel and finally we arrived Calais in northern France.
Hey aber man sollte schon selber lernen, denn wenn du mal was weisst kanns dir keiner mehr weg-wissen und englisch hilft ungemein in unserer welt weiter....
Vielen dank für die Antwort. Hatte voll vergessen zu sagen wir waren durchgängig mit dem Bus unterwegs... :D
@ThreeDog333
Lieg krank im Bett, hab 39,6°c Fieber. Kann mich schlecht konzentrieren. Und muss das Mittwoch abgeben der hefter hat 16 seiten...Und letzte woche war ich im Krankenhaus... Naja :D Hab grad mal 2 Seiten fertig.